Do you know the feeling of when you wake up before your alarm rings e-v-e-r-y-d-a-y for weeks? Some people hate it, but it happened to me four months ago and all of my feelings were basically the same: I was feeling enthusiastic. It was the feeling of knowing there is a big project coming up and you cannot wait to do it!
First of all, I always think that people who choose to live abroad are brave and self-confident because it is a life-changing decision and reflects a huge personal development. They leave behind their comfort zone and their family, relationships, and often a career in order to jump into a totally different experience. My grandmother often says this is a true example of COURAGE.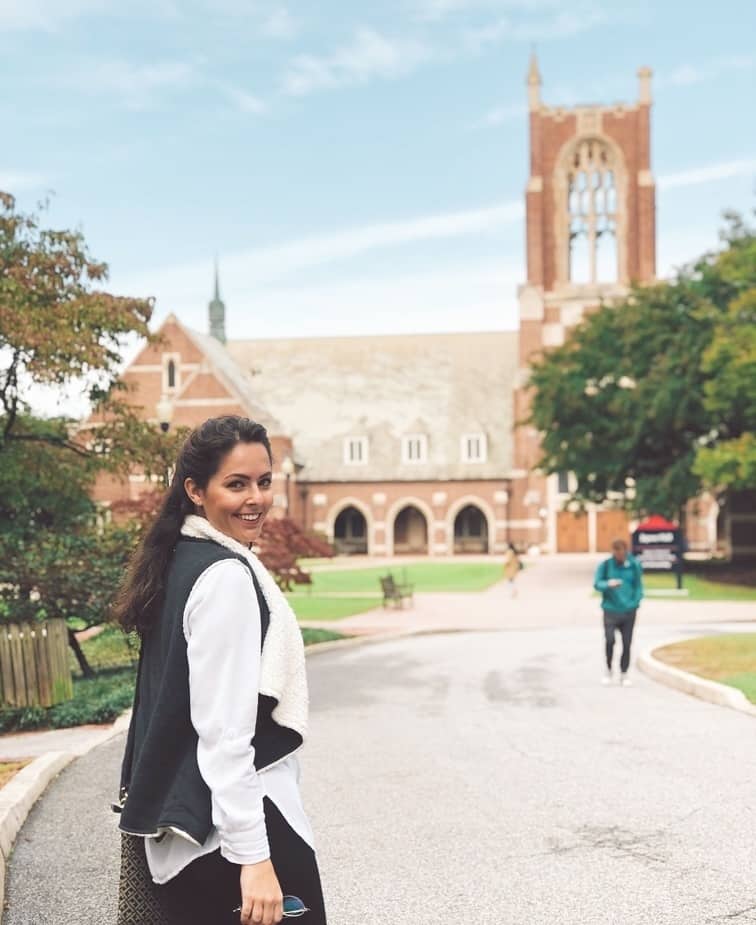 The idea of an "exchange program" has been on my mind for a long time, ever since my cousins and friends planned their experiences of living in a foreign country. All of a sudden, I thought to myself: "Oh my God, I wish I could do that! I wish I could improve my English. I wish I could study something related to journalism—my passion. I wish I could learn a different culture. I wish I could live unique experiences."
Thanks to the au pair program, my dreams became my reality.
You might ask me, "But, Marilia, how did you know you wanted to be an au pair?" I will give you 5 reasons that will encourage and motivate you to do the same!

Reason #1: The Duration
Living abroad gives you enough time to get into a culture, to get used to the language, customs and to feel part of it. Some people choose to do their exchange program in a week—some choose three or six months to study or work. In the end, it's up to you. But the thing is, if your goal is to improve your English, the more you are in contact with the language, the better.
I was always curious about how long my exchange program should take because I was always thinking it would be a challenge to be apart from my family, friends and to leave my job. Then on a wonderful day, my best friend said to me, "Time flies and life is lived only once, Marilia." Thinking clearly now, twelve months (or more) sounds great when you're living with a host family because it will give you plenty of goals to achieve. First score to the au pair program!
Reason #2: Cost Benefit
When you start looking for an exchange program, you face several barriers and one of them can be MONEY. Packing your bags and going out into the world can be so expensive that sometimes people give up on fulfilling their dreams.
I was worried about this because I had the money, but I wouldn't want to spend an exorbitant amount for what felt like a short period of time (12 months). At first, I wasn't planning on leaving my job to make this experience happen. That's why I was in doubt about the length of my exchange program—keep in mind, shorter programs are the most expensive.
Here's the big reason why I believe the au pair program is the best: You only have to pay certain Cultural Care taxes in addition to your personal expenses to get your visa and passport. All other expenses (including airfare, room & board, etc.) will be paid, as well as your week at the training school in New York. Second score!
Reason #3: Work and Study
To live abroad, you have to pay your bills if you want to travel or buy things. So earning money is at the top of the list for many people and it was at the top of mine too. I would not want to live for months (or years) being financially dependent on my parents. That makes being an au pair in the USA a SCORE!
This third reason complements the cost benefit point: You pay for the au pair program and you will have the money back since you will caring for children and making money! You will receive a weekly stipend for the responsibilities that you carry out. In the United States, you are allowed to be on-duty up to 45 hours a week.
And there's more: Being an au pair, you get the chance to study at a local university or college—and your host family will help you pay for a scholarship worth up to $500.
If you're trying to learn English, there are a lot of great schools and churches that offer free lessons which is really great! The best thing, though, is that you are going to be with Americans 8 hours of the day which is the best way to learn. You're learning HANDS-ON!
Put it into perspective: Isn't it worth it?
Reason #4: The Kids
If you adore kids, then your life just became a whole lot easier.
Being an au pair means you're going to take care of and live with your host parents' children. This will be your responsibility and you will spend most of your time doing so. That's why you have to love kids and be ready to fulfill your duties as their caregiver! You will be the adult responsible for them when the parents are not around. You have to be responsible and have already had previous experience looking after children.
I worked at a school for two years. I was responsible for over 400 children with my co-workers every day and learned to use my knowledge and my life experience to help children in their daily challenges.
As you live with them, you will create effective bonds—and that's why you must choose the right host family. You will play with them, take them to the movies, have meals with them and generally feel like you're the coolest big sister/brother of all!
Reason #5: Vacation, Travel and Friends
Last but not least: Your free time. During your au pair program, in addition to the weekly salary, scholarship, and living with your host family, you also have two weeks of paid leave.
Then what will you do? I say TRAVEL! But make sure to travel with your new friends! They will make your year even better and you will discover a totally different world.
However, you do not have to wait for your vacation to travel. Weekend trips can be awesome, too. Make a bucket list of things you want to do and places you want to visit in the USA. Call all your friends to hang out as much as you can and make your year UNBELIEVABLE!
I know. You are planning to make a big step. When I was living the moment that you are living right now, I used to have a ton of questions and I used to look for any tips I could. What should I do? For how long? And where?
This is where my cousin comes in. I was inspired to be an au pair by her, because she used to be an au pair. She encouraged me and helped me to do the same. She taught me how to choose the best family. She even gave me tips on how to do my job well, how to understand a different culture and so on.
That's why I would like to inspire you, the same way she inspired me—because this is the best experience I've ever had and I want to shout that out so the whole world hears!