Everyone who chooses to be an au pair thinks at least once about Christmas time. It's normal to have many doubts: Will I feel homesick? What if my host family has different traditions or what if they have a different religion than mine? How lonely will I feel?
I can tell you from my experience that not everything is black and white! As an ambassador, I had a chance to talk with lots of different people about this subject and I learned that most of the time, the issue was that many host families don't celebrate Christmas the same or aren't as religious as an au pair. Every time I heard those thoughts, I brought up my own experience.
Let's start from the beginning. I grew up in a Christian family, where Christmas time is very important. These days, now that all my grandparents have passed away, we spend Christmas time just the three of us (I'm an only child) every year. Can you imagine how big a struggle it was for me to leave, knowing that my parents will be alone? That was my only real problem which made me overthink the whole adventure. Later on it turned out that I left them for Christmas twice because I decided to extend.
When I was matching with host families I didn't really pay attention to religion because the main idea is to take part in cultural exchange. I knew that it's my personal matter but also families have to be open minded for our ideas and traditions so it might be fun time for both sides. After talking with the kids and chatting with a family from Colorado, I had good feeling. I was truly surprised when Kara (then my future host mom) asked me if I read the part of my application that was about religion. I was a little confused but she just wanted to make sure that I was aware that they are Jewish. When I realized that it might be an issue I was terrified. I have never wanted anyone to feel that way. Being open minded is a key thing. With that approach I didn't hesitate to pick that family to be my host.
My first Christmas in the US
I still remember my first Sunday in the family. Kara came to me and asked if there's any service I'd like to attend since it's Sunday and other celebrations are coming (I arrived in August, and the American countdown to Christmas was about to start). We talked a little about how it usually looks in our families and we got along well. We both had pretty much the same experience and opinion. I only asked if it was ok to show the boys some of my favorite activities and if it would be alright to have a Christmas tree.
I also had a friend, Kasia, in San Diego, who arrived to her host family at the end of October. We thought it would be a good idea to spend our first Christmas in America together. I asked my host parents if it would be ok if she came that weekend, especially since they were going to be gone. They agreed to it without any hesitation.
One evening, right after Thanksgiving, my boys rushed into my room. At first I didn't know what was happening—their voices got so messed up together with all the excitement. They brought me a Christmas tree which they decorated upstairs few minutes before. Their secret project worked out. I was moved and gave them all huge hugs. That gesture meant a lot to me—I felt so loved.
A few days after that I decided to show my boys what do we do in Poland on the 6th of December. Every year my family and I celebrate St. Nicolas. All the kids who want to get gifts have to clean their shoes and line them up. My boys didn't know that tradition. They were very excited about it but also I reminded them that coal is an option for kids who don't listen.
In 2016, Hanukkah and Christmas were on overlapping dates, so it was fun to be around the family and also to see how similar and different at the same time our customs are. My boys at the time were 4 and 6 years old, and had been asking so many questions and trying to understand what was happening with these holidays. They wondered why they never had a Christmas tree before, and why I never lit candles in a menorah before. The boys showed me their books and how to play with dreidels. We listened to songs and colored an advent calendar. My mom sent us a real chocolate one so me and the boys would eat one chocolate each day after school. It was all very exciting.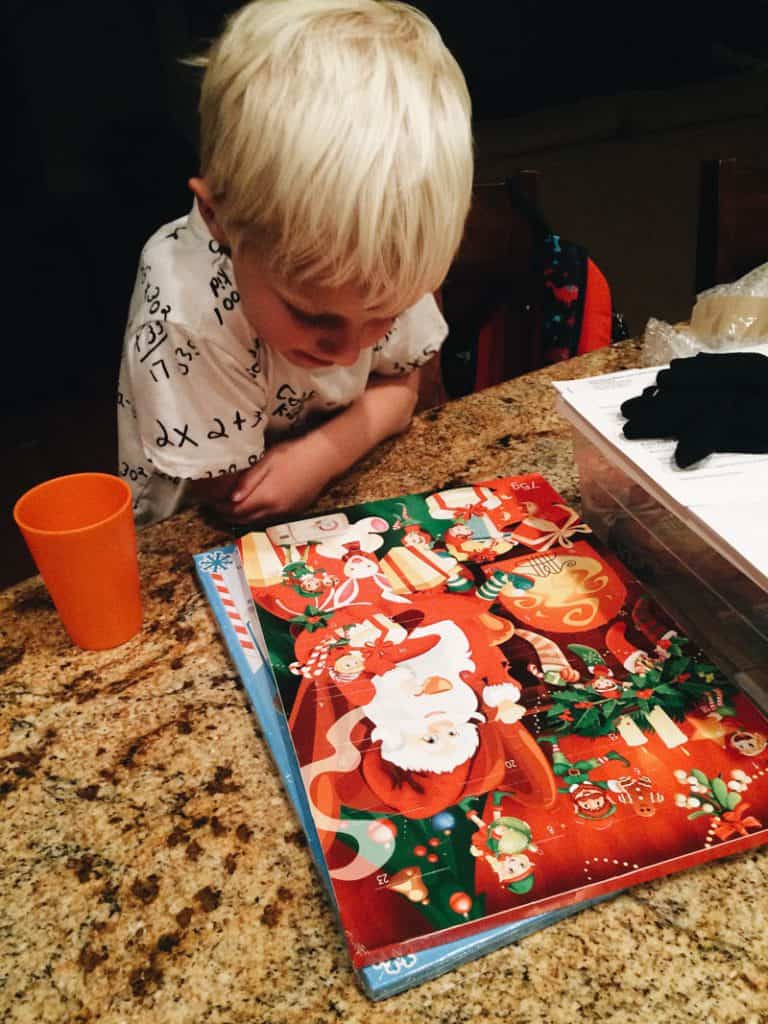 On the night before Christmas Eve, Kasia flew in to Denver and me and my other friend drove in the middle of a night to the airport to pick her up. Once everyone woke up the next day I introduced her to my host parents. I love cooking, so that morning I baked typical gingerbread which my grandma used to prepare. I already had Polish pierogi with sauerkraut and mushrooms. After that we went downtown for an early walk. By this time in Poland everyone was sitting around the table for a family dinner. In Poland, we start Christmas on the 24th right after dark, when the first star shines.
Later on, Kasia and I met up with my buddy, Lisa. Her sister and two friends were visiting for Christmas. We all grabbed hot cocoa together, exchanged hugs and well wishes. It was a very lovely time for all of us.
We also got an invitation for Christmas dinner from the host family of one of my best au pair friends. Both Kasia and I had a chance to experience their hospitality and we were so warmly welcomed there by the table. It felt like home.
I'm so thankful for that and I'm happy that they had that idea. It helped me to not think too much about home. While I was with Kasia, my thoughts were in Colorado—not struggling with doubts if I did the right thing staying and noy visiting family over Christmas time.
The Second Christmas
My second Christmas in the USA was absolutely awesome! Christmas morning I spent at my friend Alex's host parents house where we had a wonderful breakfast (the best cinnamon rolls I've ever eaten) and played with her host kids while opening presents around the Christmas tree.
At noon Alex and I went to Starbucks to grab a hot cocoa with our friends from Argentina, Colombia and Germany. We did a secret Santa gift exchange and spent some time chatting and sharing our Christmas experiences. For a few of us it was already our second Christmas abroad. We also wrote kind notes to each other. It was a wonderful gift which I still keep. When I have a bad day I always go back to those memories and read those cards.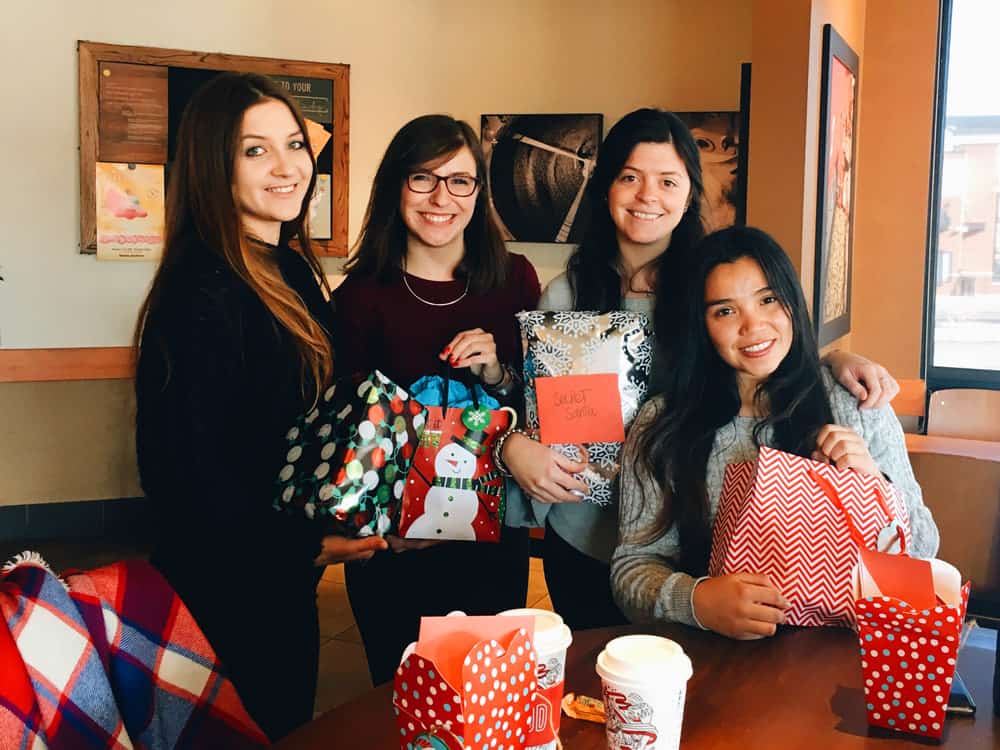 Having au pair friends is great, but having American friends is such a blessing. My American friends came up with an idea that we should organize a potluck—and since I like cooking for others, it sounded perfect to me! I also invited other girls to join us (their families are Jewish as well). It was very important for us to have that gathering.
We had Christmas carols in the background, and a lot of hot cocoa. That dinner with that amazing group of friends made that time so special and unforgettable. The night after we all went to Denver botanical gardens to celebrate the light festival. It was snowing and pretty cold, but we truly enjoyed that atmosphere and each other's company. It was a great distraction from thoughts about how much I miss my family and how much I want to be with them. Those people made me feel happy and loved. I can't say thank you to them enough times.
It doesn't matter how far away you are and where your home is—it's important to find people who can make you feel like home. People who care about you are also your friends and I can tell you that all those people I've met I treat as family—and now that I'm back in Poland, I miss them every single day. One day I hope for a big reunion around my Christmas table!