When an au pair leaves their home country and moves to the USA to care for children, take classes at an American university, make lifelong friends and explore a new corner of the world, they're taking a big step towards independence, confidence and self-assuredness. They're beginning the next chapter of their lives – and embracing the incredible opportunity to travel learn and grow in a new environment!
No matter where you're from or what you've done before joining the program, it's important that, as an au pair, you receive the support you need to succeed; support from your host family, your agency, and even your fellow au pairs.
That's why Cultural Care is proud to sponsor a Global Ambassador program for au pairs around the world! Together, our ambassadors form a community of driven, creative and communicative young women and men from across the globe. Their focus as ambassadors is to help au pairs in various stages of their journey adjust to life in the USA (as well as back home!) – and to help them make the most of their au pair experiences.
Thanks to our tireless ambassadors who volunteer their time and energy, every single au pair on our program has an ambassador buddy – someone they can turn to with questions and advice on being an au pair in the USA.
To help illustrate the benefits of our buddy program – and to give us an inside look at the au pair life – we have a special Q&A session from one our ambassadors from Italy, Sara and her au pair buddy from the same country, Andrea!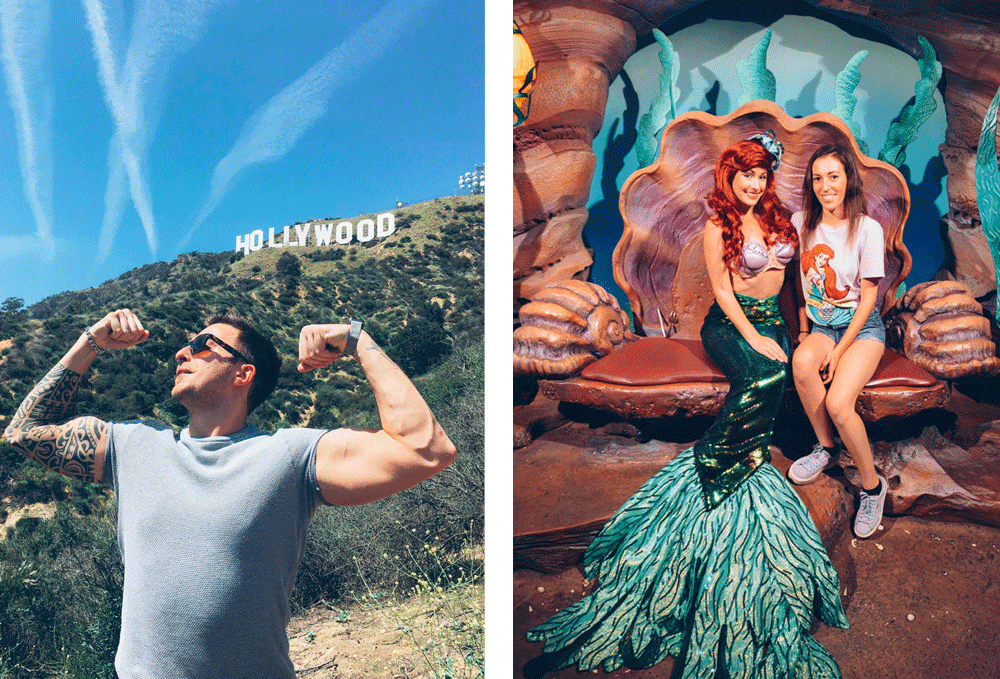 Sara: Andrea, can you tell readers a little bit about yourself?
Andrea: Sure! My name is Andrea, I'm 27 years old and I'm from Italy. I joined the program last year, and it was the best choice of my life. In Italy I worked in my family's bakery business. But my love for children and discovering the USA made me decide to take this big step in my life.
Sara: What made you decide to become a "bro pair" – and do you think it's harder for you since you're a male au pair?
Andrea: I decided to become a "bro pair" because I put together my love for children with my dream to explore the USA. Also, I'm practicing wrestling – and the USA is the best place in the world where I can improve myself in that sport. That perfect mix of my passions made me decide to be a part of this program. And no, I honestly don't think it's harder to be a male au pair. Lots of families would love to have a male au pair rather than a female. Maybe they have all boys and a guy is the best option for them! There are plenty of families for "bro pairs" out there.
Sara: How has the buddy program improved your au pair experience?
Andrea: My buddy program helped me a lot before I became an au pair. I had you to ask all the questions I had before joining – everything from how many bags to bring, to whether it's difficult to live in a new country! It was a good way to make new friends and meet other people who already were au pairs – they helped me a lot before and during my au pair experience.
Sara: Do you think that because I'm your ambassador, I can understand some situations better than an au pair friend since I've been an au pair before?
Andrea: Definitely! You can give suggestions on important decisions and help me in every situation, good or not. Lot of things are different in USA from other countries, and every host family is different as well. I'm sure everyone should need an ambassador who takes care of au pairs!
Sara: What do you think are the most helpful things we talk about? 
Andrea: The most helpful things were all the things we talked before I became an au pair; about the program, trying to understand some rules, or just different things about culture and people in the USA. Sometimes just talking about "how is your life going" etc. helps the most. Fortunately , I never had a problem with my host family
Sara: Do you feel like you can talk to me about anything?
Andrea: In my experience, yes. We became friends almost instantly because of our shared experiences as au pairs in the USA. I also think it's because you have a really open mind like me, and because we're the same age! I feel super comfortable every time I talk to you.
Sara: Have you learned anything new by talking to me and other ambassadors? 
Andrea: Yes, I learned a lot of things about the USA. You gave me lot of information because you had already lived the au pair experience before me. For example, you helped me understand the situation with the SIM card for my phone. I didn't realize that not all companies have a SIM available for non-USA cellphones, so remember you suggested to me one type of universal SIM card that can work with my cellphone? That was such a big help. The people at the store didn't tell me anything about that! I don't know what I would've done without you.
Sara: Is there anything that could be done to make the ambassador program better than what it is already?
Andrea: Honestly, no. I've had a really great experience with you as my ambassador. Right now I can't think of anything to add to the program! It's just been such a life-saver.
Think you'd be a good fit for the au pair program? Sign up today to begin the next, exciting chapter of your life as an au pair!
Are you already an au pair living in the USA and think you could be a good Global Ambassador? Apply today to help support the au pair community.