I want to talk about all the friends that I've made here, because they are a big part of making my journey the best possible. Right after I matched with my host family, Cultural Care got me in contact with other Dutch au pairs leaving the same day. I started talking with them and soon we had a WhatsApp group sharing all of our preparations and excitement! I was even put in a group with au pairs from all over the world leaving the same day. We all shared our stories and already got to know each other before we arrived.
On the day of my flight, I was very nervous! The other Dutch girls and I agreed to meet at the airport and go through the process together. I have to say that I'm so happy we did this—I couldn't have done it without them. I said goodbye to my family and friends, and then it was just me and the girls starting our amazing au pair journey together.
On the plane, I got a small panic attack realizing I was going to be far away from my home for a long time. Luckily, I had the girls around me, and just through talking with them and playing games with them, I calmed down.
The first morning of Training School we met the other people from all over the world that we talked with for so long! It was an amazing feeling to finally be able to actually hug each other and talk. In class, and after class, we spent a lot of time together. We went to Dunkin Donuts, and to Target with our group. Those were some of the first American experiences I had, with great people around me! I will never forget my time in Training School—it literally was one of the best weeks I have ever had! The day we went to NYC was awesome. Experiencing this extraordinary city all together for the first time … I just cannot describe the feeling. You can imagine that besides being excited, we all felt sad to go our separate ways at the end of the week. I'm happy that I'm still in touch with most of these amazing people, and I enjoy hearing all the different stories everyone has.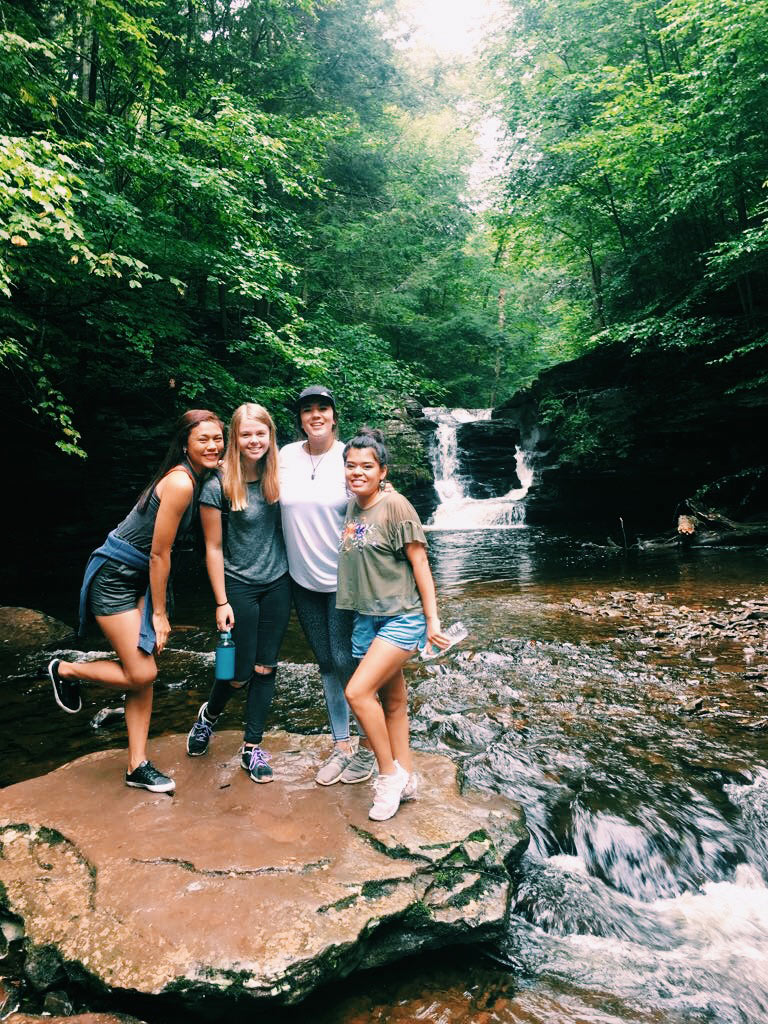 Before I arrived at my host family's home, my LCC also put me in a group with the other au pairs in my area. This meant that I already knew some of the girls here, and was very excited to meet them. When I finally came here I met a lot of the girls in the first week, and they honestly included me in everything from that day on. We do a lot of great and fun things together! They showed me all the spots I have to know here. We go to the movies, go shopping, make dinner, watch movies at home, go on hikes, have girls nights, play games, and so much more. Most importantly: We travel together! This really is the best thing. I love traveling with my friends. We get to see and experience so much together. It's mostly the amazing feeling you get when you see and explore a new place, and you can share it with your friends.
Even when I travel alone, I always meet people to explore the place with. I know that no one can ever take that away from me—it will always stay with me. One of the things that is also amazing is that everyone comes from different places in the world. I literally have friends from all over the globe! It's a fun thing to compare languages, or food culture, lifestyles, etc. And I know that after this au pair experience is over, I will stay in touch with them, because they really are some of the best people in my life. We will visit and show our home towns to each other—in fact, we already made those plans!
It's good to have these people here with me. I also have my host kids who are my best friends! Being with them every day gives us a special connection, and we have a really good relationship. Of course not every day is sunshine! But I love them with all my heart. My oldest host kid plays many sports, and he is my teacher. I learned a lot from him, and I try to teach him some things too! It's so great to have them in my life, forever. I will never lose contact with them—I will make sure of that.
Living in this house even made me love the cat! I have never been a cat person, but this cutie won me over. She is an old lady and we love each other a lot. Whenever I sit somewhere, she comes up to me and sits with me. She always wants me to pet her, and is always close to me. I never thought this would happen, but it did and I'm happy. There is so much more to tell! Having and making friends is, in my opinion, one of the most important things in life. I'm glad that with this opportunity I made some lifelong friends that I will love forever.