It was May 2017 – I was an au pair living in Colorado, and one of my closest au pair friends was getting ready to go home. She was trying to help her host parents find a new au pair to replace her. One day she came to me and said: "Hey, there's this polish girl, Ola – my host parents have talked to her and we would like you to chat with her too." Of course, I agreed.
We first talked over the phone and I instantly had a good feeling about her. As we all have experienced, making au pair friends is a lot like speed dating – you either like that person or you don't. But Ola and I matched well – we were both in our extension year, and we bonded about how much experience (and weight!) we had gained. Ola spent her first year in New York state, and I convinced her to spend her second year near me in Colorado.
Soon we figured out that we are the same age, and that we both grew up in a countryside in Poland far away from each other. We both had to face a hard time being away from home for two years. During our time in the US, nobody came to visit us and we hadn't seen our families or friends in more than a year. Ola and I created a bond of understanding and support.
Once, we talked over lunch about how something had to change. We realized that we should use this time to become better versions of ourselves. So I looked for good classes that could prepare me to professionally teach English. I also told her that I needed to start exercising but I wasn't too excited about the idea because I don't like working out that much. Getting out of your comfort zone is hard, but not so much when you do it with support of someone else. Ola agreed with my idea, so we both signed up to the gym. However, it wasn't long before Ola started to go there much more than me.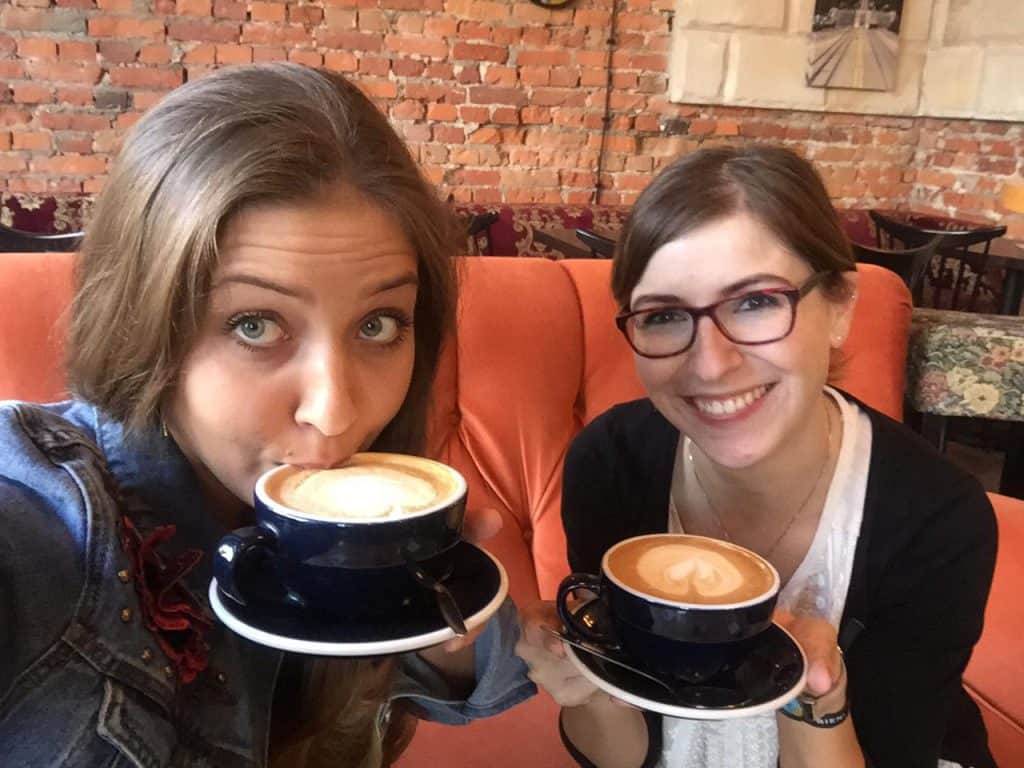 One day, while grabbing coffee with Ola, she told me someone at the gym had asked her to consider taking part in a body building competition. At first, we shared a good laugh, but then the topic came back several times. Eventually she asked herself, "why not giving it a chance?" I told her, "whatever makes you happy will make me happy and I'll support you no matter what." She went for an appointment with her potential coach and decided to take it seriously.
Since that moment, we created a real deal team, step-by-step building muscles and a strong friendship. It was at that point that we started realizing how big the differences are between Poland and the USA. In America, it was normal to cheer for someone, to not complain about hard work, and to just generally support and be happy for another person. We didn't see that as much in our homes in Poland.
Nobody around us wanted to believe that Ola could succeed. People wondered why she was doing it and if she wanted to prove something. We both knew that not everyone was a huge fan of a sport like body building, which includes pushing the limits of your body and your mind. Body building is a sport for people who start as mentally strong, but then by the end, they finish feeling physically strong as well.
Having our regular working schedule of up to 45 hours per week, making time to go have a workout and also trying to have a regular life seemed unrealistic.  But I will say, nothing is impossible if you can manage your time well enough.
Ola's routine changed a lot, especially if we look back to her bad habits from the beginning when she drove everywhere and ate a lot of sweets and other snacks. The gym was the last place she would've liked to go.
The body building competition was quickly approaching, and Ola had just 5 months to get in shape. There were a lot of questions and doubts – but no answers. We did not know if she was in the right shape to compete or how her body would react on diet or supplements. But instead of wondering and complaining, she made the decision to go for it, and the process of preparation started.
It wasn't easy for her, but results were visible pretty soon. Ola didn't tell many people about it, including her host parents. We also knew that in Poland this topic is something that can seem funny, sometimes even ridiculous – but we didn't expect such a reaction. It turned out that my host parents were more supportive to her than her own … also our friends and other host families seemed to be mostly excited about it! But, as we had expected before, Polish family and friends made some jokes and weren't supportive. At this point, we realized how different our cultures are and how different people can be when it comes to personal challenges and goals.
The whole process of preparation took almost six months; it included hard workouts, diet and facing some painful criticism which opened our eyes regarding life and culture. It was great to watch the way she was talking about new goals and her achievements at the gym. The whole transformation was changing her not only from the outside but also from the inside. The way Ola was talking about exercise and diet was so passionate and emotional that she involved me into it – and you all HAVE to know that I am the biggest hater of running and all gym-related activities. I got into dieting and was going to the gym with her. She made me do some of her special workouts and I realized that I actually like it a lot! I liked it so much that I felt guilty when I skipped one of the days we picked to exercise together! I started to support Ola even more. We were cheering for each other a lot – every single day!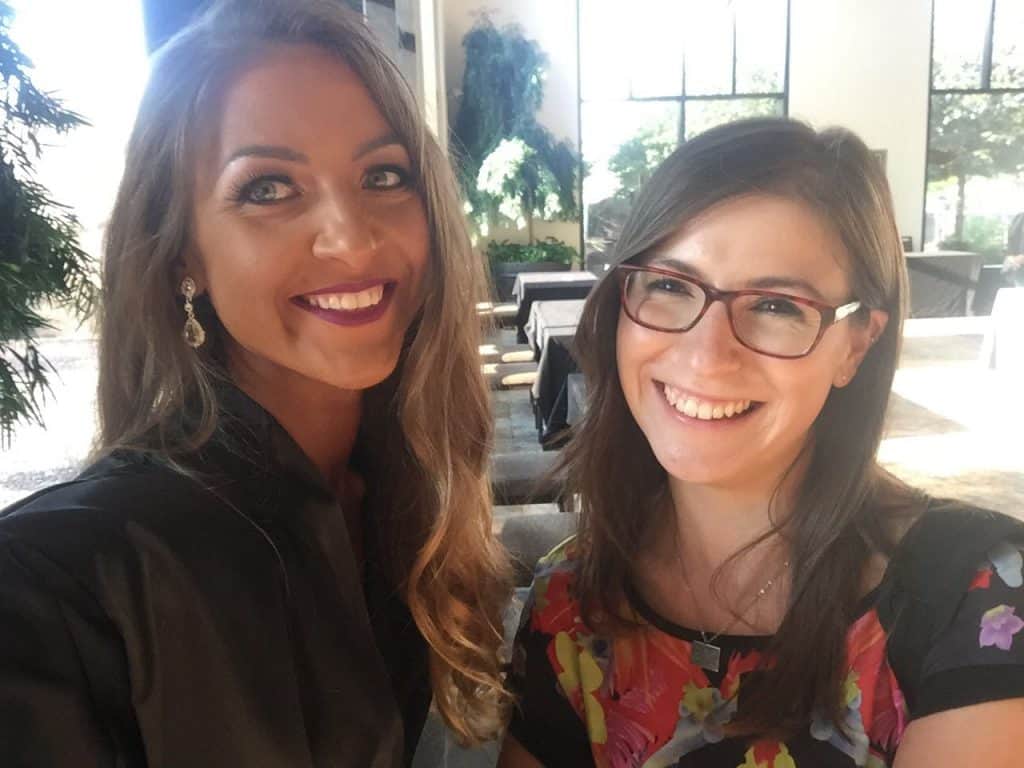 Surprisingly, the day of competition started well. At one point I was stressing out more than she did, but of course I had to remain calm to provide her some good vibes and positive energy to deal with all the tiredness and emotions. I was updating Ola's mom over WhatsApp, as well as all our friends and even my host family. There were so many people cheering for her and expecting news; that made us both very happy.
While I was waiting to see her on the stage, I had a chance to meet her gym friends! They introduced me to her personal trainer, who immediately recognized me and totally knew who I was. We chatted a little and he told me that he is so proud of her; of the way she worked and how much effort she put into it. He also told me that he was thankful for me being there with her and cheering her on so much from the very beginning of her workouts. He told me that friends like us are rare, and that it's priceless what we have.
After being there for over 14 hours, we got the results! She had her trophies – second and third place in the most important categories, and fourth in the other one. I was so moved and proud. We both cried and danced, hugging each other with all the joy we had. I decided to organize a surprise for her, so another friend and I made some decorations and cake to celebrate the victory. I was able to gather almost all of the most important people in our lives to help celebrate her day.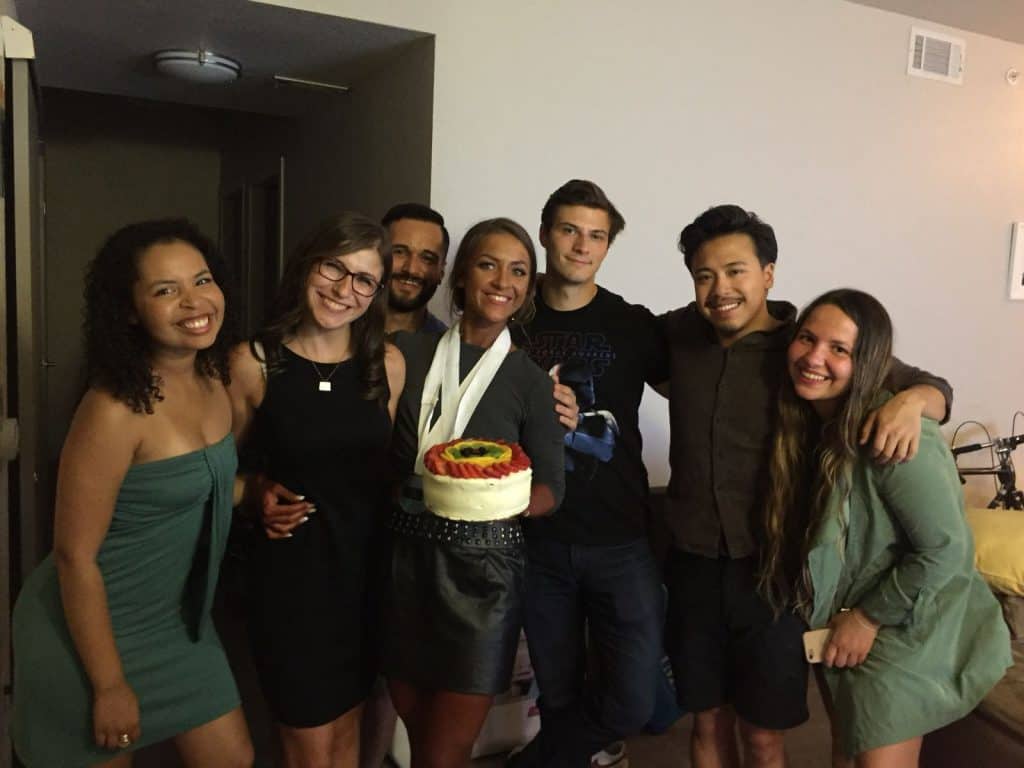 I learned a lot during this experience, but what sticks out to me most is this: No matter what you're going to do in your life, and no matter what other people say to discourage you, the bond between two friends gives you strength and motivation. And if you're ever in doubt, you have someone to help you go through hard times and teach you a new lesson. Ola and I had new experiences which definitely made us more aware of the differences between Poland and the US, where being supportive and respectful of other people's passion is extremely important. Now we both look at everything without being so judgmental, and we appreciate the hard work and presence of the other people in our lives.
Becoming an au pair was the best decision we could've ever made. It shaped us both and created a wonderful, one-of-a-kind friendship that will continue to grow over the years!