There's no doubt about it: Americans love their television. It's a common pastime and way of life in the USA. American television characters become beloved friends, and the settings of our favorite TV shows start to feel familiar – almost like a second home. For au pairs living in the USA, one of the most popular ways to kick back and relax after a long day is to watch a TV series. It's a great way to immerse yourself in a whole new world and to learn about people, places and things outside your community. Even better, au pairs often report that watching American TV shows not only entertains them – it educates them! Whether it's through subtitles or simply keeping up with the characters' constant dialogue, viewing popular sitcoms and TV series is proven to help au pairs perfect their English.
You may be asking "Ok, so what TV shows should I watch when I'm an au pair?" Fear not – we're here to help. We've given you a heads start on your au pair experience by narrowing it down to 5 of the best TV shows you should watch when in the USA. The good news is all 5 of these can be streamed right on Netflix, so you don't have to worry about tuning in at a specific time to catch an episode on cable. You know what that means … off-duty binge-watching!
Most importantly, because these are some of the best TV shows of all time, they'll give you a unique glimpse into American culture over the years – and they'll help you connect with Americans during your time abroad. When you watch these TV shows, you'll arm yourself with enough cultural references to be considered a local!
FRIENDS
Years on Air: 1994—2004
Starring: Jennifer Aniston, Courtney Cox, Matthew Perry, Matt Le Blanc and Lisa Kudrow
Chances are good that you've heard of Ross, Rachel, Chandler, Monica, Joey and Phoebe – six twentysomethings whose lives we followed for 10 years through the ups and downs of jobs, relationships, roommates and friendships in Manhattan, NYC. FRIENDS is still such a popular sitcom that you'll find entire trivia nights and parties dedicated to it. The characters are just the right mix of hilarious and heartfelt, and the long-running jokes make it a joy to watch any of the 10 seasons they produced over the years.
Some of them are old college roommates, others are brother and sister, others are romantic partners … but all are good friends. You'll laugh and cry along with them and learn some of the most iconic lines of the TV show including "How you doin'?" and "WE WERE ON A BREAK!"
First airing in 1994 and continuing into the early 2000s, FRIENDS is like a time capsule – a perfect reminder of what American life was like in the 1990s, and how much we've changed (and how technology has changed us!) over the years.
Why is this a good show to help you learn English? The language is conversational and the jokes allow you to understand the basic humor through the dialogue. The speed of the dialogue is also just slow and clear enough that you'll be able to catch most if not every word.
GOSSIP GIRL
Years on Air: 2007—2012
Starring: Blake Lively and Leighton Meester
Originally based on the book series of the same name by author Cecily von Ziegesar, Gossip Girl is a popular teen drama series that centers around a group of very rich, very connected high school students living in the most affluent part of Manhattan in the Upper East Side. The story is told from the perspective and through the voice of a female narrator, whose identity remains unknown until the very end of the series and who goes by the name "Gossip Girl."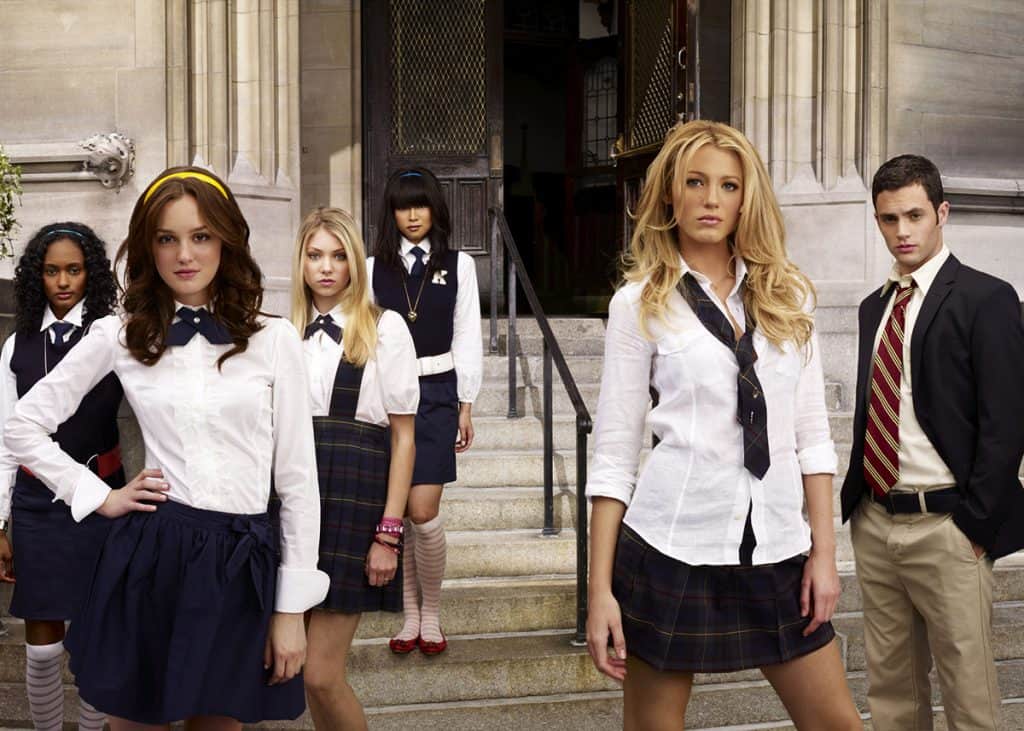 Serena van der Woodsen, Blair Waldorf, Chuck Bass, Dan Humphrey and Nate Archibald are the central characters – they spend their high school years navigating love triangles, scandalous relationships and the trials and tribulations of friendship with one another. It's a firsthand look into the posh and glamorous lifestyle of the New York City elite, and a glimpse into the classic traditions and rituals of American teenagers.
Why is this a good show to help you learn English? The narrator is easy to understand and really helps walk viewers through the show – she explains the beginning and end of each episode which gives non-native English speakers even more opportunity to hear plotlines. Plus, the language is a perfect example of how young Americans communicate with one another.
THE OFFICE
Years on Air: 2005—2013
Starring: Steve Carell, John Krasinski and Mindy Kaling
Done in a mockumentary-style format (a.k.a. a fake documentary), The Office chronicles the day-to-day lives of office workers in the Scranton, Pennsylvania branch of the Dunder Mifflin paper company. Inspired by the British version of the same name (which aired first, in 2001), the main character of the American version is Regional Manager Michael Scott, who plays the role of the narcissistic, clueless and ultimately compassionate "World's Greatest Boss."
The ensemble cast represents a diverse demographic of office workers, who together create one of the funniest atmospheres modern TV has ever seen. The Office gives viewers a peek into the world of corporate America – and with a few romances along the way, the show tugs at your heartstrings in between bouts of hysterical laughter.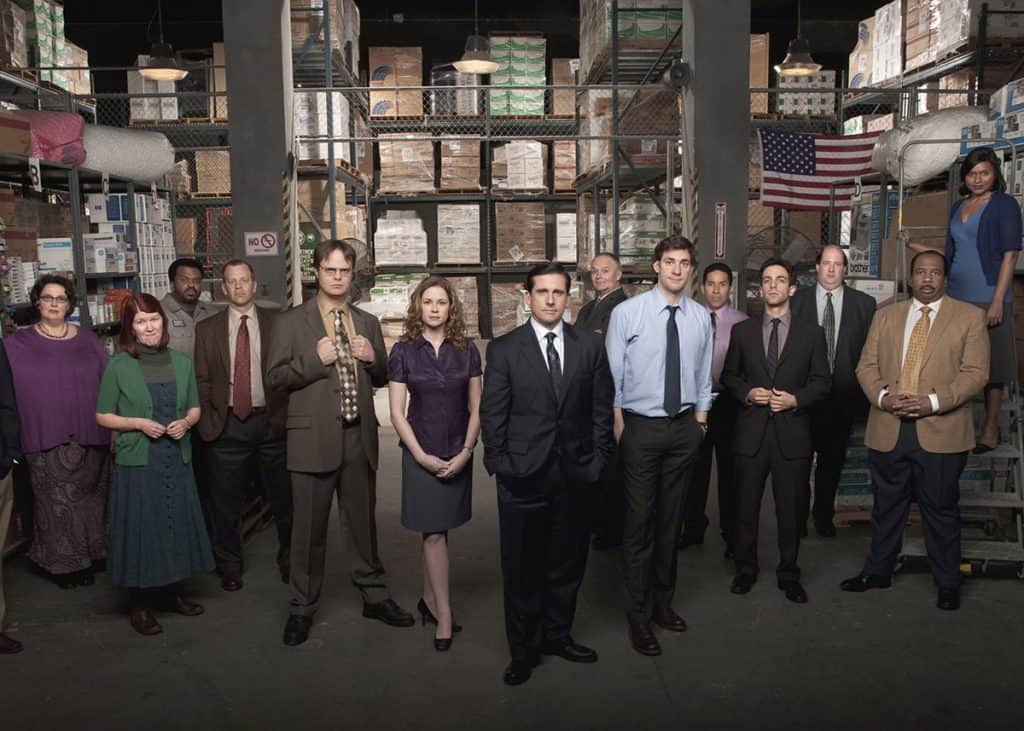 Why is this a good show to help you learn English? Because the characters in the show know they're being filmed for a documentary (even the cameraman has a role), they often speak directly at the camera in interview-style segments – meaning it's very easy for viewers to catch what they're saying in a clear, concise way. In addition, the English is basic and the premise of the show is relatable. That means you'll find yourself easily addicted and watching episodes almost every day! The more repetition, the easier it will be to pick up on the English language.
GREY'S ANATOMY
Years on Air: 2005—Present
Starring: Ellen Pompeo, Sandra Oh, Patrick Dempsey, Justin Chambers and Katherine Heigl
Considered America's most beloved medical TV series, Grey's Anatomy is a "dramedy" – a show that walks the line between drama and comedy. It's set in Seattle, Washington at Seattle Grace Hospital, where main character Dr. Meredith Grey starts her residency (in-house training to become a doctor) and slowly climbs the ranks. Each episode touches upon a different medical issue, with guest characters often coming in and out of the hospital and therefore, the show. Between the romantic relationships, personal problems, work issues and the major deaths over the years, Grey's Anatomy is a highly-entertaining and emotional look at life in a hospital.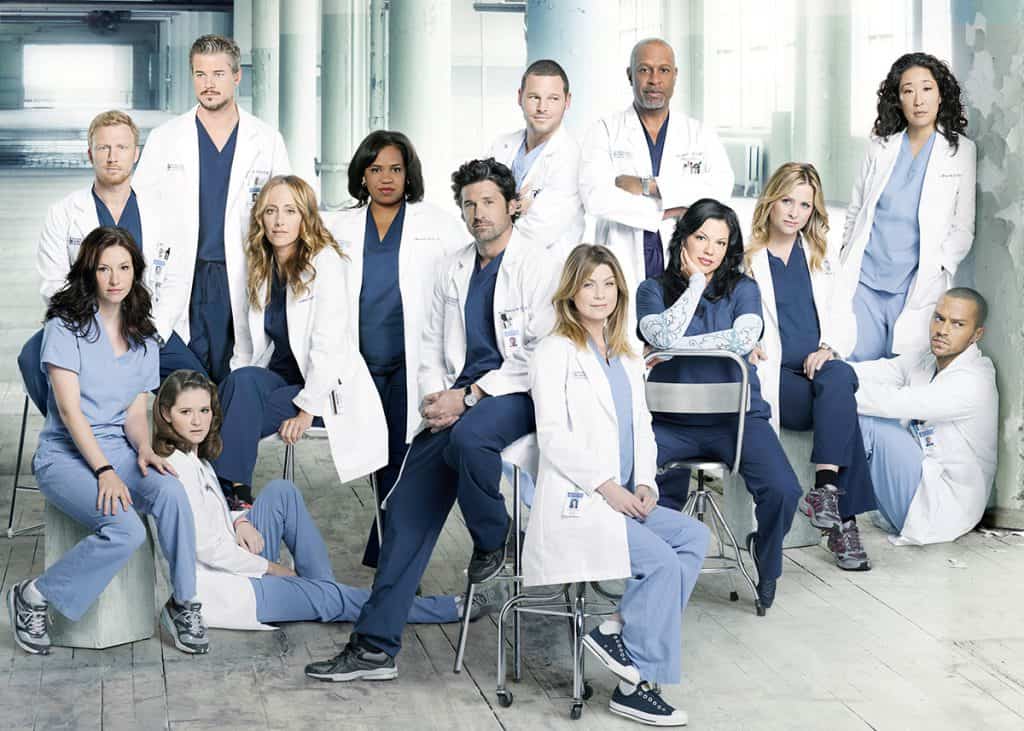 Why is this a good show to help you learn English? There's a lot of one-on-one dialogue between the different main characters throughout the run of the show, which is always easier to follow than group conversations. On top of that, Grey's Anatomy uses a lot of common English idioms, which are always great for non-Native English speakers to learn. It's also a particularly great TV series to watch for those interested in medicine and health, as the show uses a lot of specialized vocabulary and provides an in-depth look at the medical field in America.
GLEE
Years on Air: 2009—2015
Starring: Lea Michele, Cory Monteith and Matthew Morrison
Set in a public high school in Ohio, Glee is a one-hour musical comedy sitcom that follows the lives of teenagers, teachers and local families through the daily problems and realities that come with small town living. The focus of the show is on the school's Glee Club, led by teacher Mr. Schuester, who inspires a group of misfit performers to find their voices, raise them up and follow their dreams of winning a national singing competition.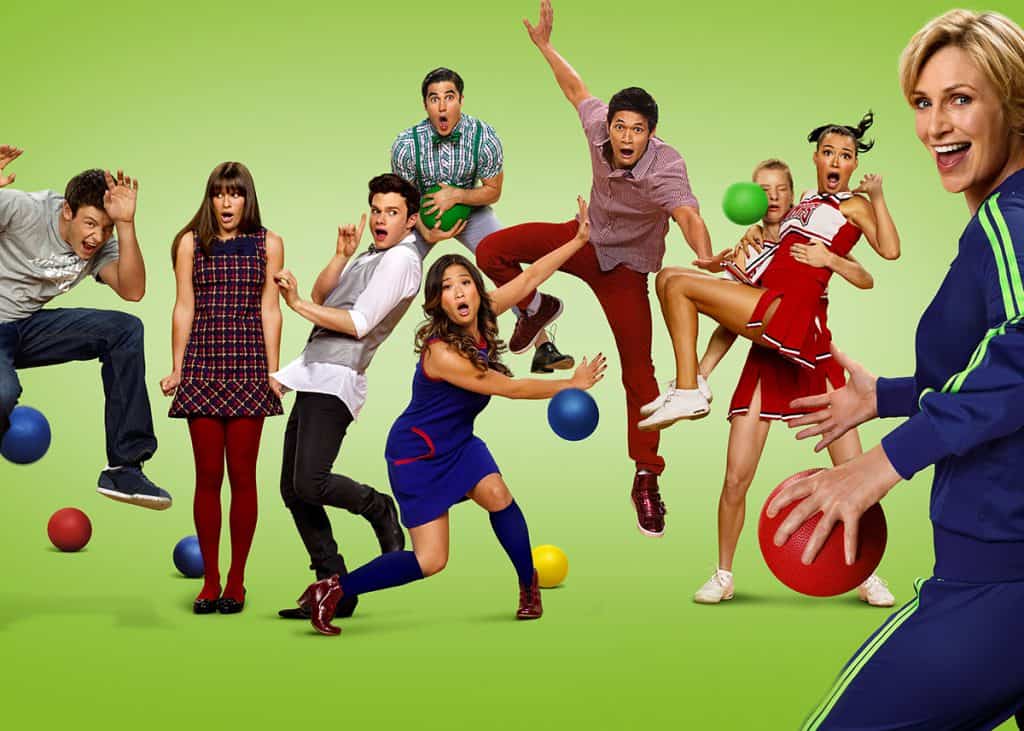 With famous cameos from stars such as Kristin Chenoweth, Britney Spears, Idina Menzel and Carol Burnett, Glee tackles modern day issues ranging from teenage pregnancy to drug use to race relations. It also has a very light-hearted side, showcased through the vocal talents of its stars and the songs that move the story along.
Why is this a good show to help you learn English? It's been proven that learning English through song is one of the most effective strategies for non-native speakers, because the repetition (catchiness, if you will) of the music and lyrics helps solidify the language.