Summer is here! Which means that Americans all across the country are getting ready to celebrate the most patriotic of holidays: The 4th of July!
The 4th of July is America's Independence Day—it's the day back in 1776 that the founding fathers of America formally adopted the Declaration of Independence, a historic document written by Thomas Jefferson. By signing this declaration, America declared independence from Great Britain, keeping the Revolutionary War raging until 1783, when American troops won and reveled in their newfound status as a free country.
Though the war continued after the signing of the declaration, the 4th of July has ever since been the day regarded as the birth of American independence.
And how do Americans celebrate that independence? With fireworks, food, and fun!
There are great 4th of July traditions out there—after all, July in America means warm weather, summer vacation, and happy families. Want to know the best ways to celebrate Independence Day like a true American? We've listed our must-haves, must-dos, and must-eats below.


Fireworks
The 4th of July is a time to celebrate who we are loudly and proudly! That's why fireworks have become a staple at Independence Day celebrations across the country. Go to any major city on the 4th of July and you're sure to see some incredible fireworks displays light up the sky.
Boston and New York City have two of the best fireworks displays in the country, with millions of dollars being spent every year to ensure an impressive light show. If you're looking for something more low-key, many beach communities or small towns across the nation put on more humble, but just a beautiful displays. Pull up a lawn chair or a blanket, and enjoy!
"My host family has shared American culture with me during the 4th of July! We went to Whidbey Island, baked chocolate chip cookies and made lemonade which we later sold. After that we went to the 4th of July fair—then we went home, made s'mores and watched the fireworks." —South African au pair Kaycee, who is living with the Brodkowitz-Geise family in Washington


Picnics & BBQs
An important part of any holiday is the food! And the 4th of July is no exception. Many families use this summertime holiday to spend time outdoors grilling, or picnicking. Popular foods for a 4th of July picnic include hamburgers and hotdogs, potato salad, fruit salad, and s'mores!
In fact, hotdogs are so commonly eaten by Americans on Independence Day that Nathan's Hotdogs holds a huge hotdog eating competition every year on Coney Island in New York! The truth is, though, any food will work for this special day. All that matters is that you're outside with your friends and family, eating and enjoying one another's company.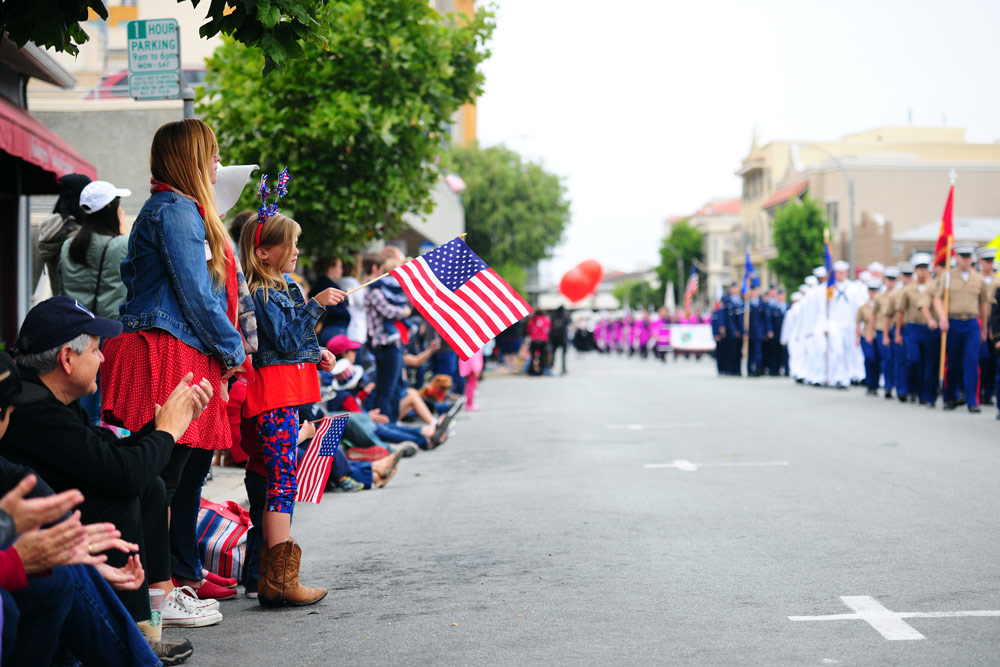 Parades
If you're in America on the 4th of July, chances are you'll be near a city or town putting on an Independence Day parade! Parades are another way to show American pride in a loud and proud way. Most 4th of July parades are often a big display of patriotism, and feature everything from firetrucks to marching bands, community organizations to large floats.
Most parades happen either on Independence Day, or the day or two before. They're also usually a midday occurrence—so put on some sunblock, grab a chair and pick a great viewing spot. Parades are a classic part of American life!
"On July 4th, we participate in a parade wearing American hats. At night we go to our friend's house to wait for the fireworks." —Colombian au pair Karen, who is living with the Abileah family in Washington
Red, White & Blue
To represent the colors of the American flag, most people dress and decorate in red, white and blue on Independence Day! So if you're invited to a party, picnic or BBQ on the 4th of July, make sure you wear something red, white and blue to show your patriotism!
You'll also see plenty of flags hung up around town, and many people will wave them at events like parades or fireworks. Don't be surprised if you see red, white and blue on everything from plates to cups, tablecloths to balloons—Americans are all about showing their pride!


Beach & Lake Trips
Summer is the time to take a vacation, and get away from home for a while. And since July is such a hot month for most Americans, Independence Day is the ideal time to pack up the car and go to the beach or to a lake for a long weekend or even a full week!
Most corporate offices in America give their employees the 4th of July off from work, so it's common for people to take advantage of the vacation day and take a trip. Plus, the beach and the lake are both beautiful places to reset, relax, soak in the atmosphere and enjoy a peaceful but patriotic holiday away from the hustle and bustle of city life.
"My favorite memory about my host family is going to the beach with them for the week of the 4th of July, and spending every day at the beach building sand castles, jumping waves with my host kids, learning about their history and how to pick crabs. I love how much they make me feel welcome." —South African au pair Christen, who is living with the Clark family in Maryland