Host moms can be a great source of comfort and advice for au pairs; often times, they know their children, their country, and their home better than anyone else in the family! Host moms can also be a good friend and confidante during your time in America. They are there to listen, provide guidance and enjoy all the little moments that make your time abroad so special.
We want to help au pairs build the best possible relationship with their host moms – so we've compiled the top 5 ways to create a lasting bond with your "second mom" in the USA:
1. Invest Early
Building a strong relationship starts with the interview process. It's so important to take the time to get to know your potential host mom early on, because it will help create a foundation upon which you two can grow closer together. We recommend having at least 3 interviews with the family in the early stages of matching – and we recommend using the 1st one to simply decide whether or not you like the family! Ask yourself: "Is this a personality match? Do you want to live together? Do you want to have dinner together every night for a year?" If the answer is yes, then it's time to start thinking about the 2nd and 3rd interviews where you can get to know them even better.
Keep in mind that there will be weeks or even months before you arrive in the USA and officially meet your host mom in person – so it's especially important that you keep in touch and continue to get to know each other. The more you communicate, the more comfortable you'll be when you touch down in America and finally arrive in your second home! The goal is for your host mom to not feel like a stranger when you finally are welcomed into her home – you want to be as excited as possible to meet her and the rest of the family!
2. Communicate openly
Honest and upfront communication is a critical part of having a close relationship with your host mom. It's so important that you provide feedback to your host mom – and remember that they should be giving you truthful feedback in return! Remember: No one is a mind-reader. In order to grow and improve in your au pair role and responsibilities, you must be willing to communicate with your host mom on a regular basis and in an open, candid way.
It's especially important to talk to your host mom about what's working and what's not working early on and often – that way, the family can make changes or talk through anything that may need to be addressed going forward. If you have any suggestions on ways you could better take care of the children, or on ideas in the house that could make life a little easier for you and/or the family, then speak up! Your host mom chose you for a reason and respects your opinion – sharing your thoughts and feelings will add value to your family dynamic, and will open up room for more communication down the line. Adding your input early on will help you settle on a routine and schedule that works for everyone, and will set both you and your host mom up for a successful year together!
3. Plan Ahead
As an au pair, your first and most important responsibility is caring for your host children – but another huge part of au pair life is experiencing American culture and traveling around the country! One thing you can do to help make things easier for both you and your host mom is to plan ahead when it comes to your travel plans. If there are things you want to do and places you want to visit, then just tell your host parents about it! They'll most likely support you and help you get there – after all, they're excited to share their culture and home country with you, too. If you know a specific weekend or month that you want to take some time off to explore the USA, then tell them as soon as possible. It will help them find alternative childcare coverage and it will give you ample time to plan your adventures!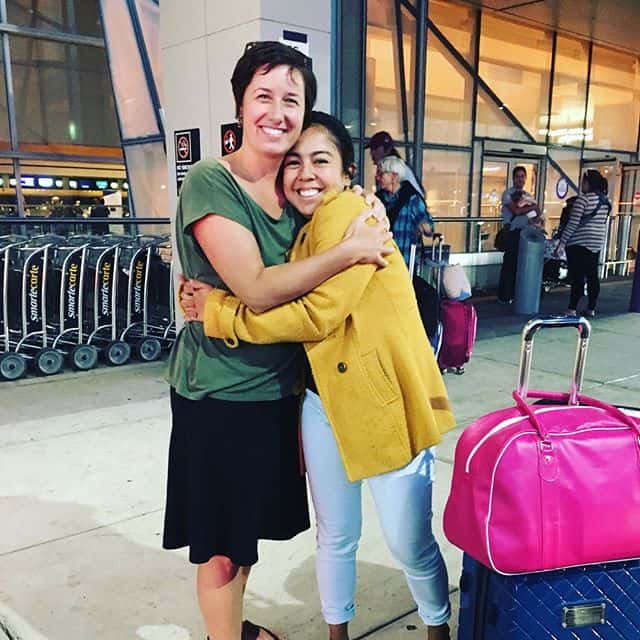 Many host moms do their best to be flexible with scheduling, and to allow their au pairs as many opportunities as possible to check off all the destinations on their travel bucket list in America. And of course, host moms expect some flexibility in return should anything go awry. Showing mutual respect for each other's schedules will go a long way. And the most important thing is to do your best to lay out a schedule that works for both parties, and to think ahead about all the incredible things you want to do as an au pair – and when you want to do them!
4. Ask for Help
Being an au pair means adapting to new situations; not only will you be adapting to a new country and culture, but also to any changes or difficulties in your host children's schedule and routine throughout the year. School closings, after-school activities, sickness, snow days – they can all throw a wrench into an au pair or host family's plans. The key is to ask for help. Even the most prepared and experienced caregiver must know when to reach out and ask for assistance. Don't be afraid to go to your host mom, explain the situation at hand and ask for her guidance on what to do next. She'll be grateful you did, and she'll be there to jump in and take charge.
Asking for help goes beyond just scheduling, of course. Many au pairs ask their host parents for their guidance when it comes to helping the kids with their homework. Your host mom doesn't want you to suffer through American grade school homework that you don't understand – she'd rather you spend your time doing things for the children that will benefit them and enrich their lives. And of course, almost all au pairs ask for help when it comes to navigating the American way of life. In a foreign environment like a new country, it's crucial that you lean on your host mom – and host dad! – as you learn how to live in America like a local.
5. Have Fun
Of course, as an au pair, you'll be working and caring for your host children – but that doesn't mean you can't have fun while doing it! You can build a happy, caring relationship with your host mom that can last a lifetime. A good host mom/au pair relationship means asking one another about their lives and being there to enjoy the little moments together. It can also mean traveling together, whether it's around your local community or on a vacation somewhere new!
Keep in mind, however, that your host family can't be 100% responsible for your personal happiness – it's up to you to pursue new friendships, hobbies and experiences. And it's up to you to find the things you love in America and to do them as often as possible! Part of having a great relationship with your host mom is knowing when to spend time together and when not to – if you want to spend your evenings with your new au pair friends, that's okay! Your host mom will support you having fun in whatever way you choose. The key to a strong bond with your host mom and the rest of your host family is finding the right balance between enjoying one another's company and maintaining a mutual respect for one's needs. You want your time on the au pair program to be filled with fun and lasting memories – your host mom can play a big part in making sure you enjoy your once-in-a-lifetime experience as an au pair!
Interested in learning more about our host moms?
Check out the story of Priya, host mom from Los Angeles!