As a hopeful au pair, it's incredibly exciting to start the search for your American host family—hopefully one that is supportive and accepting of all the parts that make you, you. But if you identify as LBGTQ+, you may be feeling a little bit more nervous about finding a family who will be completely welcoming.
The Cultural Care Matching Specialists try to set au pairs' minds at ease. "Our host families are generally very open-minded, and we encourage them to choose an au pair based on the things that matter most—shared values, similar interests and complimentary personalities. It's true that some host families may be more open to hosting an LGBTQ+ au pair than others. And there are also families who would prefer to host an au pair who identifies as LGBTQ+. So there are plenty of host families out there who will be a potential match!"
So how you do you find a host family who you feel confident will accept you for all that you are, including being part of the LGBTQ+ community? We'll share 5 expert tips below to help.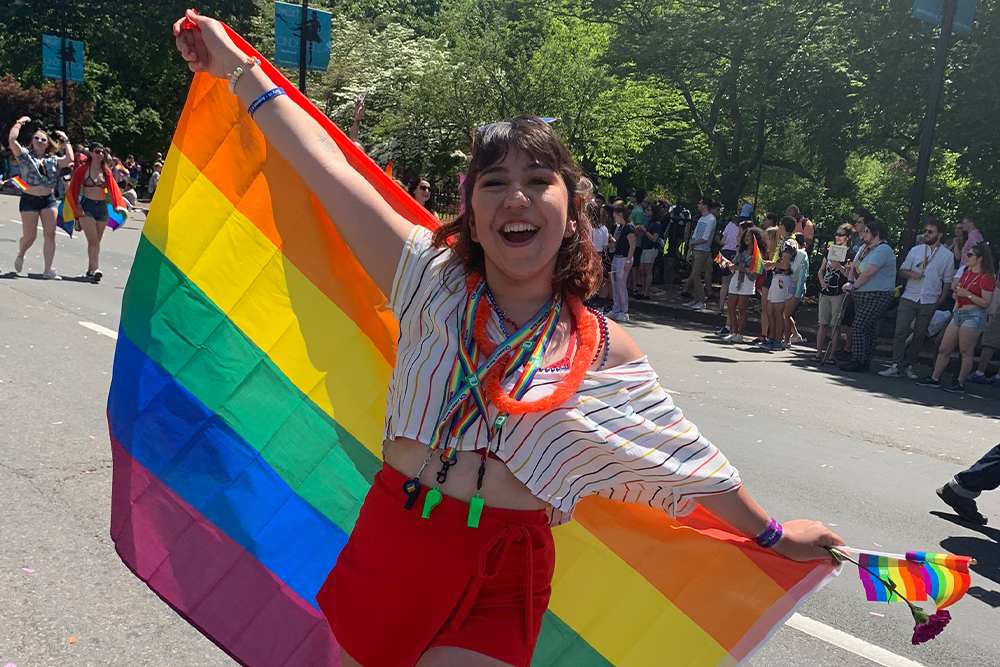 Austrian au pair Tugce was direct with potential host families about her LGBTQ+ affiliation.
1. Be direct
If you feel comfortable sharing, you may decide to be very direct about something that makes you unique, including your LGBTQ+ identity. For example, Austrian au pair Tugce says she told potential host families: "'I identify as a part of the LGBTQ+ community, and I wonder how you feel about that?' In the beginning, I asked every single family how they feel about [this part of me]." Tugce found that being direct was a good way to gauge a host family's comfort level and spent a year with a great family in the New England state of New Hampshire.
2. Consider your interview questions
Argentinian au pair Keila also identifies as LGBTQ+ but chose not to talk openly about this when she interviewed with host families. "Not every person feels the need to share that, or we can choose to talk about it when feeling comfortable to do so."
If you're not comfortable being direct about your LGBTQ+ affiliation, look at your interview questions to make sure that some of them will help you assess how open-minded a family is and what supportive resources are available in their community. Some examples include:
What movies and TV shows does your family like to watch?
What does your family like to do in your spare time? Are there any events in your community that you love participating in?
What are some of the most important values/beliefs you are hoping to instill in your children?
How diverse is your area?
How does your family address and discuss important social justice issues in today's society?
Are you a part of any social justice groups, or are there any I can join in your area?
3. Review the host family profile
In addition to what you learn during your interview, there's a lot to discover about a host family in their online profile, including their support of the LGBTQ+ community. Matching Specialist Raphael Fonseca advises host families to be proactive in sharing their support of the LGBTQ+ community, "which they can include in their letter to the au pair and through the photos they share," he says. So be sure to look at those parts of a host family's profile in particular.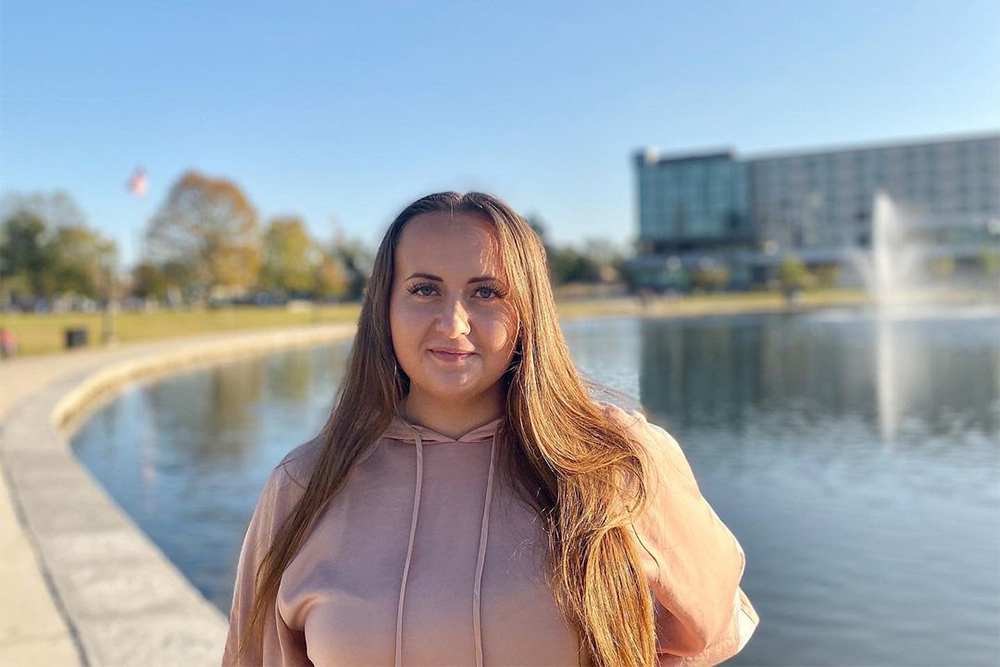 Au pair Ebba was put at ease when her current host family asked her if she had a partner vs. a girlfriend.
4. Include personal details in your letter
As part of your au pair profile, you'll be asked to write a personal letter to potential host families. This is one of the first sections a host family looks at, making it a great place to include important details about yourself.
Au pair Keila made it clear that it was important to her to be with a family who was supportive of the LGBTQ+ community. "In my opinion—and this is what I did—you should make sure you mention it in your profile, however you feel comfortable. For example, one of the last sentences of my letter for the host family was: 'I'm looking for a LGBT+ friendly host family.' That's it. And I made sure I mentioned the same thing when interviewing in case they misread it or forgot about it."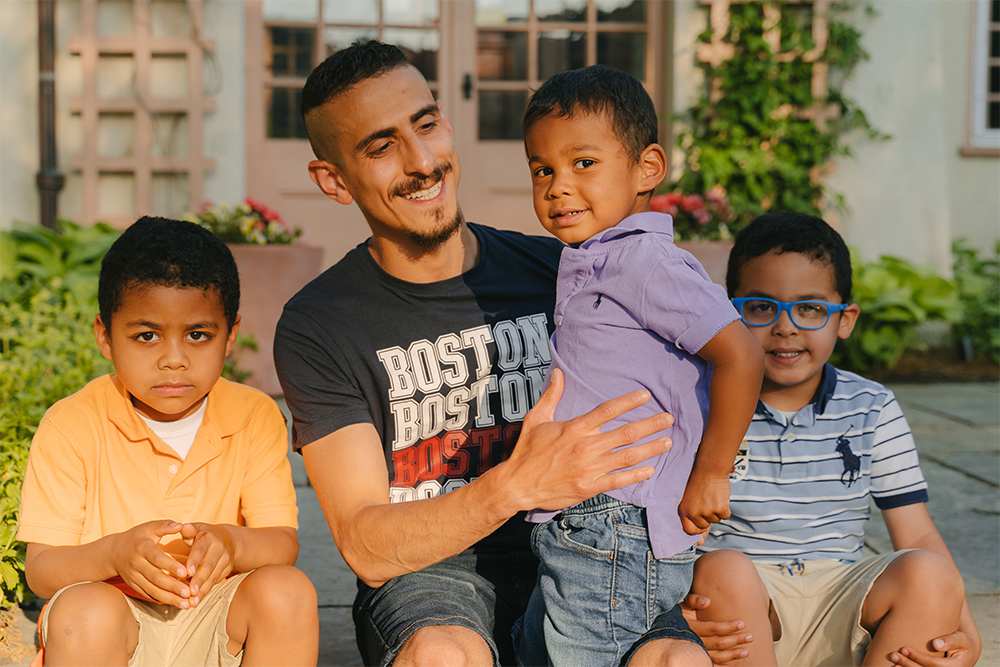 Luan, au pair from Brazil, found a great match with his two host dads and their three young boys.
5. Try matching with a same-sex family
Cultural Care Au Pair has many wonderful LGBTQ+ host families who may be a good fit for your time in the USA. There's even a way to indicate you would be open to matching with same-sex family in your au pair profile, so that is a good start to finding a two-host-mom or host-dad host family!
Luan, au pair from Brazil, lives with two host fathers and their three young boys and says: "When I talked with them, Jerome and Will, I felt like we would be a good match. First of all because they are a gay family and I am gay so I felt like they were going to understand me. It's not an issue. Actually, it's great because we share a lot of interests in common. We watch the same TV shows, and we can talk about things."
We hope these tips are helpful as you start the search for the right host family for you. Our office staff is always available to help with other questions or concerns you have!