Celebrating 30 Years!
An inside look at Cultural Care's 30th anniversary year.
Cultural Care Au Pair is celebrating a very special birthday this year. 2019 marks our 30th year as an au pair program sponsor—and we're commemorating the occasion in style!
Celebrating our Mission
Check out our 30th anniversary video to get an inside glimpse at what this milestone year means to our community. You'll see au pairs, host families, LCCs and staff members as we explore the life-changing cultural exchange opportunities created through our program these past few decades. You'll also understand just how deeply meaningful it is for our global families to honor this special year, as they reflect on how their lives have been forever changed for the better.

A Global Celebration
What else are we doing to celebrate our 30th? We hosted 23 birthday parties around the world! In the span of only one week, local Cultural Care Au Pair offices from Colombia to Germany, South Africa to China hosted celebrations bringing former and prospective au pairs together to connect over the program.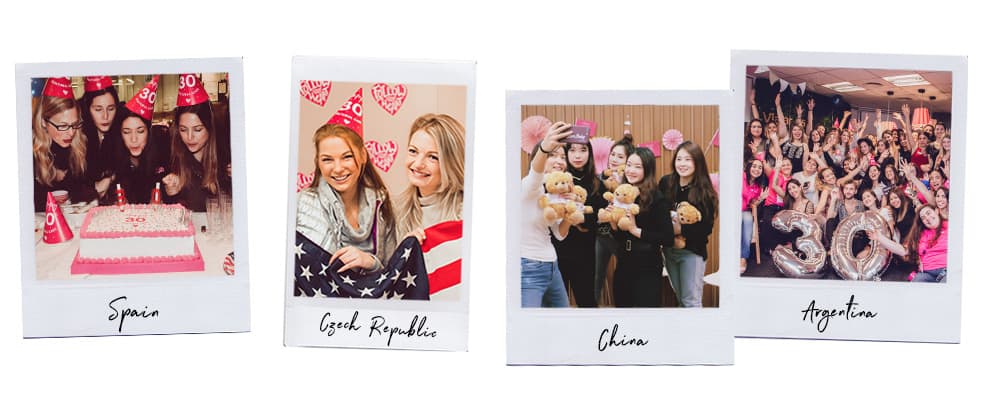 These events helped our community gain unique insight into #aupairlife, and how being a Cultural Care au pair in the USA can impact your life for years to come. "At our event there was a true sense of connection simply by sharing stories and experiences," says Liesl, from the Johannesburg event. "There was a sense of pride from all our former au pairs, knowing that their stories may play a small part in making a big life-changing decision, for many of the girls who attended."
The birthday party in Paris had some very special guests. Staff member Laura recalls, "A former au pair and her host family—parents and kids—came and mingled with future and returnee au pairs, as well as a staff member from the USA, who talked about her role in supporting Cultural Care au pairs and host families who are on the program. Four former au pairs sent us pictures of their au pair year and shared their experience on the microphone in front of the crowd! Guests connected very quickly with one another, and we even had trouble getting the last ten people out of the office, who were still talking and laughing together more than half an hour after the end of the event!"
What's More?
In honor of our 30th, we're also hosting a very exciting scholarship opportunity for young women and men around the world who are interested in becoming au pairs, called our "30 for 30 Contest". We want to help more young people discover the life-changing experience of living abroad in America, so we're awarding 30 scholarships covering our program fee to 30 prospective au pairs across the globe!
Follow along by watching and voting for your favorite videos—and stay tuned for our announcement of winners in May 2019.